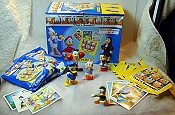 That's Donald PVC Toys & Sticker Box "That's Donald" Rare Disney Imported Box! This is a high quality,
officially licensed product - extremely rare import from Italy, originally produced in the mid 90's by the
collectible company Panini. Each box contains 25 packs. Each pack contains 12 stickers and 1 Donald Duck
Family PVC toy! The entire set of "That's Donald" is 228 Stickers and 18 PVC Toys.